Bodegas Ximénez-Spínola is the Jerez winery of the Successors of Philipe Antonio Zarzana Spínola, whose first documented exportation with notarial protocols dates from 1729, although in the cellar are not preserved manuscripts relating to its business activity until 1736, and on this varietal crop in particular, until 1752.
The circumstances of Ximénez-Spínola make it a unique winery in the entire frame of Jerez, since no other family of winemaking tradition has devoted and remains dedicated exclusively to the grape Pedro Ximénez, obtaining the recognition of Spanish authorities to grant the "Own accreditation: Pedro Ximénez Variety Denomination"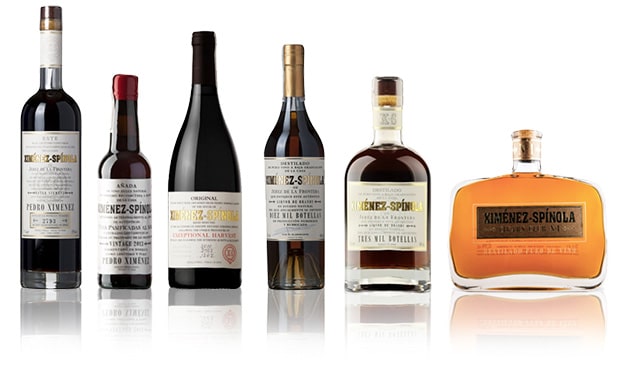 Over the centuries, the family has made sweet PX from Pedro Ximénez and also vinegar and brandy.
The Grape
The origin of the grape Pedro Ximénez is geographically situated between the Rhine and Moselle rivers. The variety reached the Iberian Peninsula during the reign of "Charles I of Spain and V of Germany" (1500-1558 a.d.). The viticulturists brought to Spain the first shoots of an unknown type of grapes in the Iberian Peninsula. It is a fruit with many similarities to the varieties "Riesling", "Weissable" and "Elbling" but after developing in Spain its own characteristics for almost five hundred years, has come to not exactly match with any of them. Among the Spanish "pagos" where the first vines of this new variety sprouted, highlights the "Pago de los Tercios" in the heart of Jerez, near the village of Las Tablas.
At the moment, they own 16 hectares of vine, grown organically (albeit without official certificates) in Las Tablas and the pago Carrascal. They only grow Pedro Ximénez grapes, which is rare in the Jerez region. Other producers stopped growing PX many years ago and now buy their PX grapes (or rather PX base wines) in the neighbouring D.O. Montilla-Moriles. As Ximénez-Spínola dries most of its grapes in the sun (a system called soleo), they lose around 70% of the weight of the grapes along the way and obtain a mere 200 litres of must from one ton of grapes.